How To Copy Text from Image? – Steps With Example
In daily life and study, we write down our ideas or important points on paper. And we also take pictures of these contents and save them on our devices. This is a classic technique that is extremely useful in practice. But when you want to save your written ideas digitally or in editable text form, you may need to copy text from an image.
If you are also looking for a way to copy the text from images in no time and save them on your device, then this article is for you.
In this article, we will show you the easiest ways to copy text from any image or file, whether you are working on a desktop or mobile device.
Let us get started.
How Many Ways Are There to Copy Text from Images?
Two ways can help you copy text from images or any kind of screenshots. These ways are:
Manually Copying Text from Images
The process in which you do all the work on your own and do not take online assistance is known as manual extraction. It is not easy to manually copy the text from an image because there are many steps that you need to follow. But do not worry. We will explain it in a way that you can easily understand.
There are several steps that you need to follow to manually copy the text, which is:
This is how you will be able to copy text from any image. However, if you do not want to extract the text on your own, then you can also hire a freelancer that can do all your work in time, but it will cost money.
Automatically Copying Text from Images
This is one of the easiest, most cost-effective, and time-saving methods for copying text from images. In this method, you use online tools and make them do your work.
The real problem many users face is whenever they search for a specific tool, they find hundreds of them and do not know which one is effective. And using each tool one by one to find a good one takes a lot of time.
If you have also faced this issue, then do not worry. Here in this heading, we will show you which tools are best and how you can use them and copy the text.
To copy text from images automatically, you must follow some steps that are:
Choose a Good Tool
If you want to pick an online tool on your own, simply go to the search engine (you used) and type "image to text converter." It will show you multiple different tools, and you can choose any of them.
So, we have picked one of the top-ranked tools named Imagetotext.info and now we will show you how it works to copy text from images.
Keep in mind, while choosing an online image to text converting tool, always check if it utilizes advanced Optical Character Recognition (OCR) technology powered up by Artificial Intelligence. Most of the tools available online use only OCR which is not enough to extract data or text from the images. OCR is programmed to recognize only a limited number of fonts and it cannot analyze the context. So, it may give you an output that will not be readable.
Advanced tools like ImageToText.info use AI and NLP (Natural Language Processing) along with OCR which makes it one of the most advanced tools available online. This tool can even read handwritten notes. It can analyze context and convert images into text accordingly even if the word was not that readable due to inadequate quality image.
Import/Upload your Image.
Now, after opening the tool, you will see this type of interface, as shown below.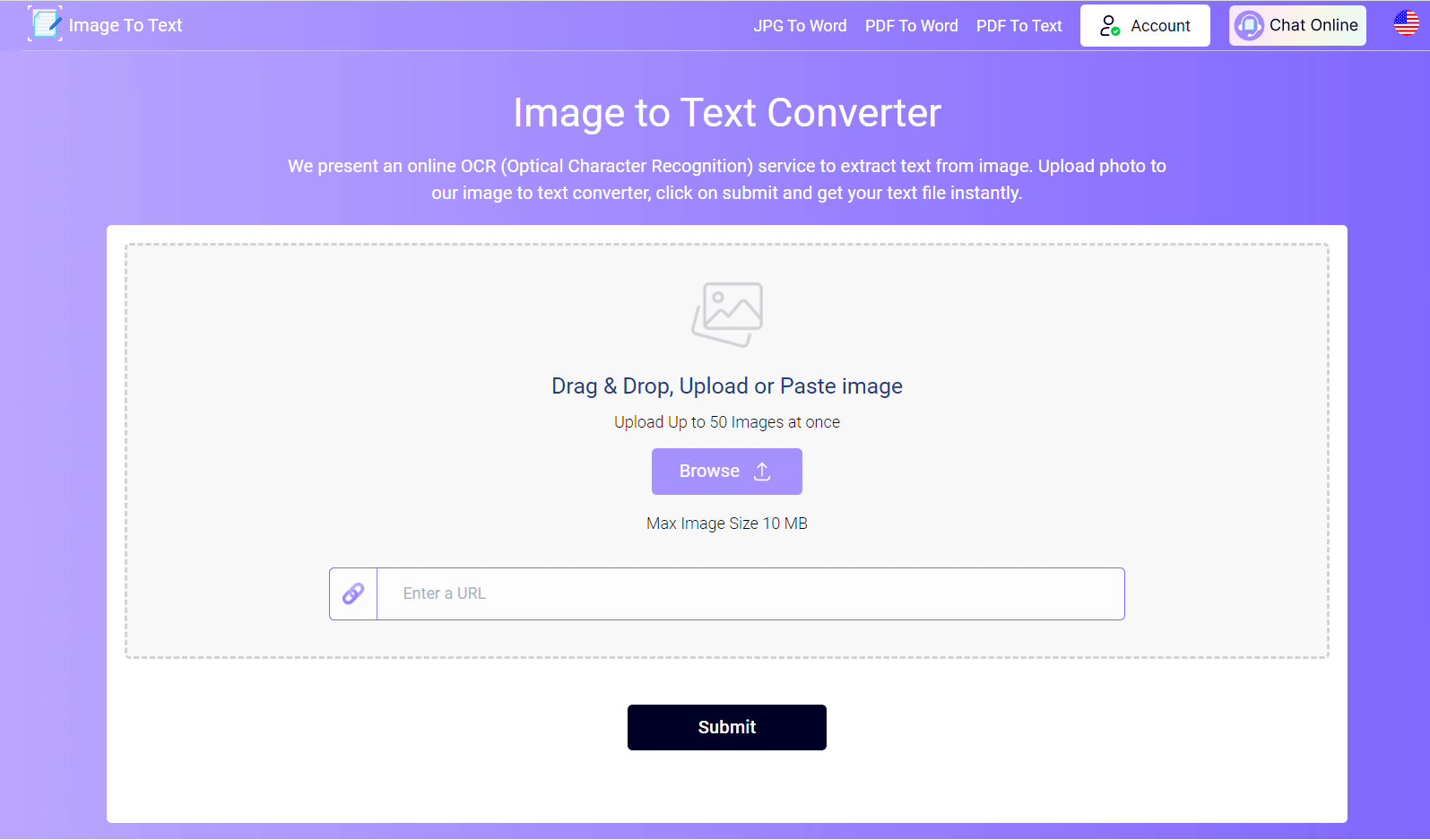 This is the interface of the tool we mentioned earlier. It provides different options that users can use to upload the image so that tool will scan the text and give you results.
If you have already saved the image in your device storage, then you can import it from the given options. But if you have copied the image to your clipboard, then you can paste it into the given box using the command "CTRL+V."
Besides, if you have the URL link of the image and want to copy text from it, then you can also paste it into the given box.
After importing the image, just click on the tool's button having the text "Submit," and you are done.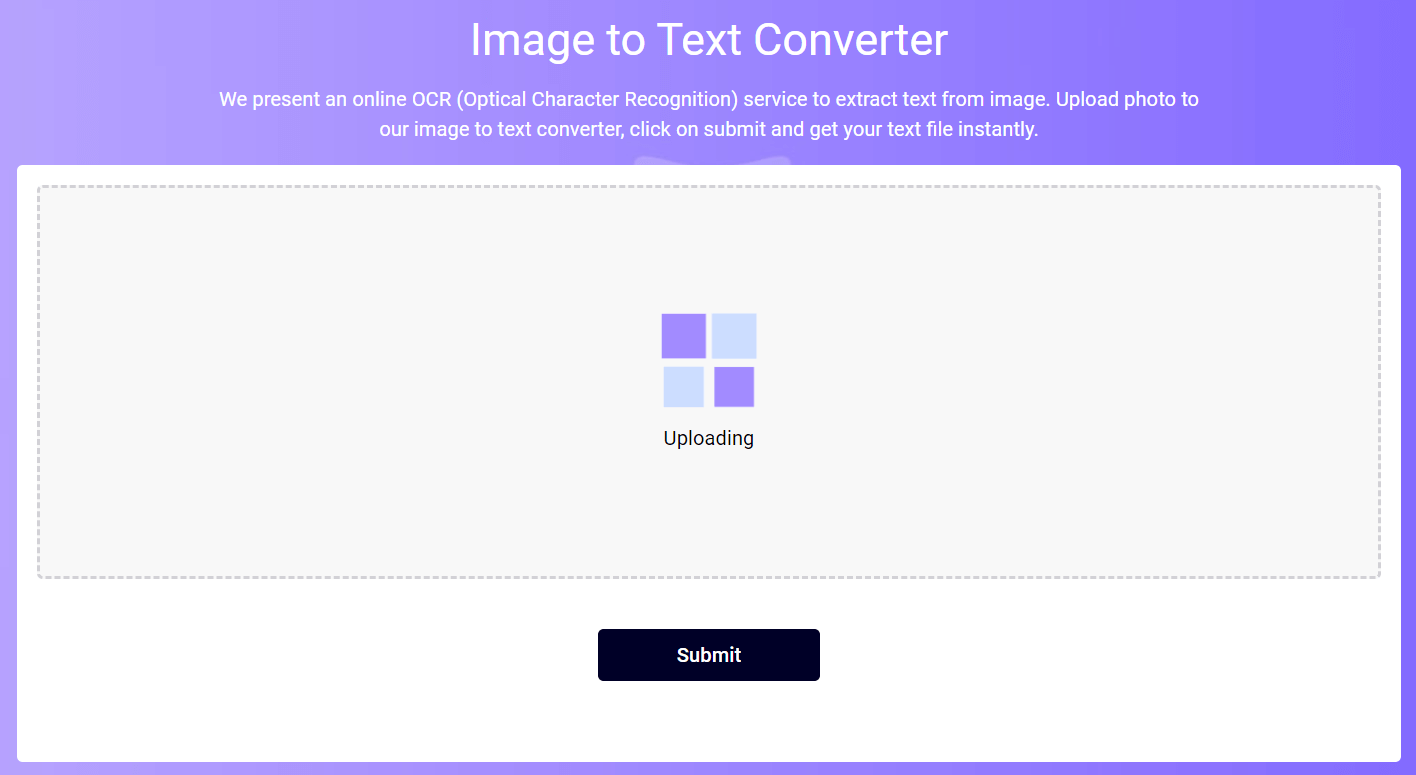 The tool will take the rest of the work and scan the text, and give you results.
Get Text in Editable Format
After clicking on the button, the tool will run the image on its algorithms and scan the text in it. When it has done scanning the image, it will extract the text and give you the editable text, just as shown in the below image. And do not worry; you do not have to do anything. The tool will automatically do that on its own.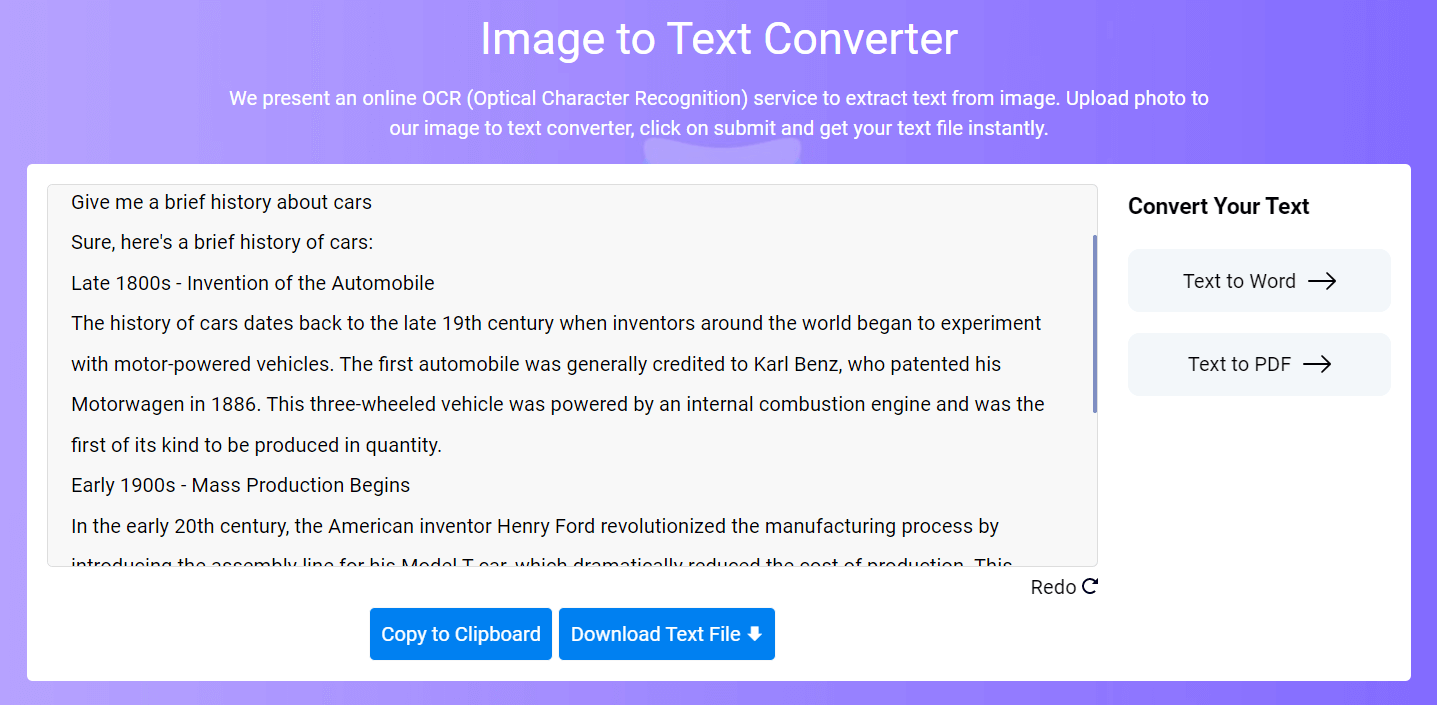 Review the Extracted Text
You must check the text at least once because if you choose a tool that is not working on advanced OCR technology, it might give you results with errors. It will ensure that there is no error present in the text, and you can use it without any worries. However, if there are any mistakes found, then you can correct them quickly.
Export the Text and Use it.
And after getting the output results, you can simply copy the text to the clipboard from the given option, or you can download it in .txt format.
This is how you can automatically copy text from images.
FAQs
Besides, there are some questions that users frequently asked related to this topic. So, here we will give you the answer to all FAQs.
1. How Can I Copy Text from Images on Laptop?
If you are using a laptop and want to copy the text from an image, then you can also do that using Image to Text Converter Software. You just need to upload the image in the software, and it will convert it into editable text that you can copy and paste. Whether you are using an Apple MacBook or Windows laptop, you can install the software and use it.
2. Can I also Copy Text from Images on Linux System?
Yes, you can also install the Image to Text Converter application in your Linux system and copy text from any type of image. Just go to the Linux store and search for any image to text converter and download it.
3. How can I Copy Text from an Image with an Extension?
Yes, there are many browser extensions available that can help you to copy the text from images. Even if you are using any search engines (Bing or Google), you can install the extension from their store.
4. Is it Possible to Copy Text from PDF or PDF images?
Yes, it is possible to copy the text from a PDF or PDF image. For this, you can simply upload your PDF image to any online tool but make sure that the PDF file is not locked, or password protected.
5. Can I also Copy the Text from the Image on Mobile?
Yes, you can also copy the text from images on your mobile phone. You just need to download the app on your Android or iOS device from your mobile store. If you are thinking about is the application will be available for my iOS or Android phone for this purpose. You can find the best Image to Text converter apps by following the links given below:
Conclusion
So, this article was all about how you can copy text from images. We have tried our best to explain everything in full detail with examples. There are only two ways to copy text from any image, manual and automatic. One is to do it on your own (manually copying text) without taking online assistance. And if you are on a good budget, then you can also hire a freelancer that will do your job and save you time but will cost some bucks.
In an automatic process, you can use online tools, mobile apps, or even desktop software which will do your work and save time. The good thing about them is you can also use them for free. You just must upload the image in the tool, and it will automatically gte the text and give you the output. You can copy the output or download it in TXT or DOC format.